by Andrew Stephens-Rennie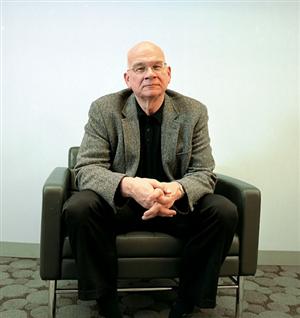 A lot of attention has been paid, in recent days, to Tim Keller's words to a group of journalists about his views on gay marriage and homosexuality. Keller is the pastor of Redeemer NYC (Presbyterian Church of America) and a founding member of The Gospel Coalition, a group of neo-reformed church leaders from around the USA.
What interests me the most about Keller's comments is not the content about sexuality per se, but rather his comments about the way in which many evangelicals a) read the bible; and b) practice their faith. In Peter Enns' Patheos blog, he observes a significant issue at play. That is, for many who hold to an evangelical biblicism, for them to come around on issues like homosexuality or evolution. Keller puts the problem this way:
You're going to have to ask them to completely disassemble the way in which they read the Bible, completely disassemble their whole approach to authority. You're basically going to have to ask them to completely kick their faith out the door.'"
Too often, especially amongst those who consider themselves "more progressive" on issues of human sexuality, the argument is reduced to a change in thought: People just need to change their mind or catch up to others in their *thinking*.
As much as emergent theological voices want to push past the "propositional truth" paradigm, we continue to find ourselves stuck offering replacement propositions. New ways of *thinking* about human sexuality. And yet, what's at stake here is not just a new idea, a new proposition, a new piece of information. What's at stake is, in fact, a complete rewiring of an entire way of being.
This is no easy thing. Keller's observation, "You're basically going to have to ask them to completely kick their faith out the door," is precisely what's at issue. And it's a big deal.
Stepping Back 
Over the course of the past number of years, I have engaged in numerous conversations with friends and strangers about their emerging / evolving faith. For many, this has been marked not simply by an epiphanaic change in thinking, but rather a change in practice. Often this looks like a denominational shift. Orthodox becomes Presbyterian. Evangelical becomes Roman Catholic, or Orthodox or Anglican.
But one of the things that has constantly struck me, is the way, in each instance, each convert brings elements of their childhood faith to their new ecclesiological home.
Most astounding to me, are the number of "Evangelical Orthodox" I've met – friends and acquaintances who have converted to Orthodoxy, but still bring that evangelical zeal to the tradition. Constant invitations to church, to become a part of the community, and eventually become a catechumen and convert.
It still amazes me to see this process repeated. And yet, in the language of evangelical faith, "If you've discovered the truth, why would you keep it from your friends?"
Such practice is completely foreign territory to classical orthodoxy, and yet, with a wave of hipster converts from Evangelicalism, somewhat unsurprising. They have been formed in a particular culture, and are bringing those cultural assumptions to a new place, even as they are being formed and informed by a new practice, a new system, a new way of being.
New Habit Formation
Old habits give way to new, but it is not an immediate transition. There may have been a Damascus Road experience, but there is no clean break between one way of being and the next. Paul did not completely discard his Pharisaic way of being when he became a Christ-follower. If anything, he brought that training with him. Romans 7 seems to be evidence of that internal struggle. Formation in one tradition will not be simply over-written by a new operating system. It takes time. The process is more organic than digital. The cells in our body replace themselves every 7-10 years. I wouldn't doubt it takes that long for our ecclesial or theological (re)formation.
Returning to Keller's point, any potential shift in worldview (if such a shift happens at all), will only happen incrementally, over time. In response to Enns' post on a friend's facebook wall, one commenter suggested: "the old worldview continues to exist beneath the veneer of the imposed/accepted for a LONG time."
This is precisely what's at issue here, because we're talking about reforming a lifetime of habits.